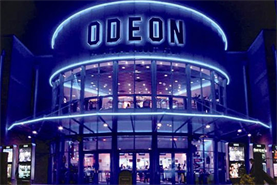 Odeon, the UK cinema chain, is holding a review of its media planning and buying account, which has been held by MEC for eight years.
Cinema News
Robert Di Niro's Tribeca Film Festival is being launched in the UK...
Virgin Media has reignited a "multi-year" partnership with FilmFlex to help develop...
Cinema Features, Analysis & Comment
This weekend's coverage of the Baftas promises to be more immersive than...
Dependent on experience, M2 3BA
£25,000-£40,000 + excellent uncapped commission, Central London (Angel, Islington)
£20,000- £22,000 Basic (OTE £35,000) Uncapped Commission Structure, West London
Dependent on experience, London, SW1 2TX
£35-£40K DOE with up to £65k OTE, Oxford
Breaking News from Media Week : Preview
You need to register to receive our bulletins. Registration is free and only takes a minute.
If you have already registered then sign in to your account now and selected 'My bulletins' within preferences.