Search for more media jobs
There is an interesting debate going on between the advertising industry and those that look into it from the outside about what's best for the consumer.
---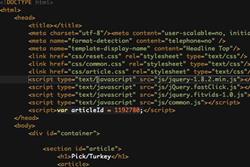 Ahead of making your new year's resolutions, Campaign offers a suggestion: 2014 is the year you should learn to code.
---
ITV and PHD will film a fast-turnaround ad at tonight's European premiere of the film 'The Hobbit: The Desolation of Smaug', which will be aired on ITV's channels on the same evening.
---